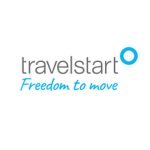 Now Open
About the business
Who is Travelstart
Travelstart is Africa's leading online travel agency that helps today's business and leisure travellers search, compare and book the best flight, bus, hotel, car hire, holiday packages and activities all in one place.
With a huge focus on affordable travel and simplifying the travel booking experience for our customers, visit the Travelstart website or Flapp, the Travelstart app, to find some of the lowest fares around. Pay quickly and safely online with your preferred payment method and you're off!
What we believe
Freedom is a wonderful word. Our freedom was given to us by our parents and grandparents. Millions sacrificed their lives so we could sip skinny lattes at Brandenburger Tor Gate, go shopping on Corzo Venezia in Milan or surf in Jeffreys Bay. We take freedom for granted, like oxygen.
But it's slowly been chipped away. Thousands of invisible battles are fought every day in front of our very eyes. Increased government control, corporate corruption, red tape, social media censorship, surveillance in the name of protection, fake news, price fixing. The list is endless.
Travelstart assists and upholds our precious freedom to move, to meet, to be curious, to go to exotic locations and to explore new cultures and be inspired by new people.
We help you to meet with distant relatives, to make business across borders, lovers to meet and to keep the world an open place. Freedom to Move is precious ­to us and something we find worth fighting for. It's something we find worth living for.
Working Hours
Now Open

UTC + 1
Monday

9:00 AM - 9:00 PM

Tuesday

9:00 AM - 9:00 PM

Wednesday

9:00 AM - 9:00 PM

Thursday

9:00 AM - 9:00 PM

Friday

9:00 AM - 9:00 PM

Saturday

Day Off

Sunday

Day Off