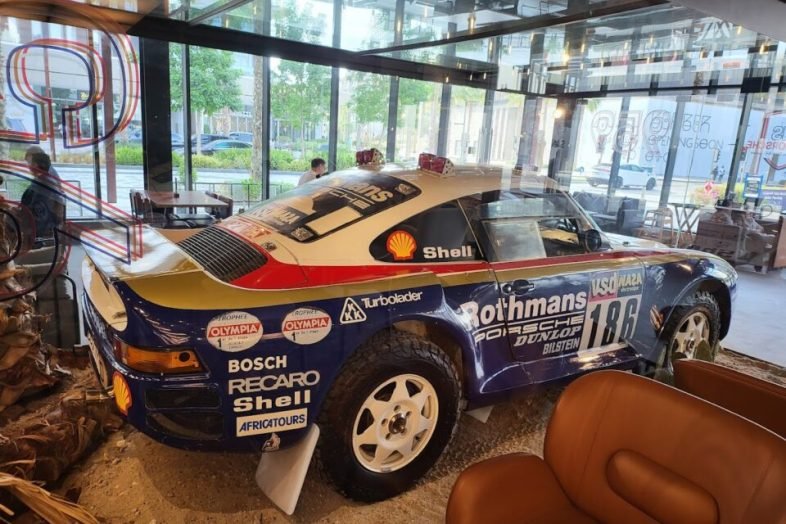 DRVN Coffee Dubai by Porsche, which is located on Bluewaters Island, is a fine establishment which is perfect for people with good taste in cars and coffee. With a collaborative effort of DRVN coffee and Porsche, this spot is a place where you can enjoy your food while witnessing the heritage of Porsche and one of the Best Coffee Shop in Dubai.
The stylish two-floor café has a specialty coffee shop, a Porsche car museum and an assortment of delicious pizza and burgers to offer.
With a rich history built from a humble background, Porsche is considered one of the leading car makes with a massive following across the world. Since its beginning in the 1940s, the brand has released numerous iconic models, many of which grace the DRVN by Porsche café in Bluewaters Island, Dubai.
Here's all you need to know about the place.
HOW DRVN COFFEE DUBAI STARTED
There are only a few attractions for car enthusiasts in the UAE. The DRVN Coffee by Porsche brings together the love of excellent coffee served by expert baristas with a passion for desired, vintage, and rare cars in a warm environment.
THE PERFECT LOCATION
Before arriving in Dubai, DRVN Coffee is an Abu Dhabi-based café with a branch in Al Hudayriayat Island Abu Dhabi and at the Abu Dhabi Airport. These two branches offer premium specialty coffee and traditional Napoletana-inspired pizzas. While it has always been a car-themed restaurant, the Dubai branch stands out due to its exclusive collaboration with Porsche.
DRVN by Porsche in Dubai is a 7500 sq ft building with enough space to house several Porsche models under one roof. Let's take a look at some of the most popular Porsches you can spot here.
CURRENT PORSCHE ICONS AT DRVN PORSCHE
PORSCHE 356 A/1600 COUPE (1957)
In 1956, the previous 356 was replaced by 356 A. One of the key differences between the 356 and 356 A was a curved panoramic windscreen. 356 A have 4-wheel hydraulic drum brakes with fully independent torsion-bar suspension with shock absorbers.
PORSCHE 935/78 'MOBY DICK'
The 937/78 was built under the supervision of Porsche's Racing Chief Norbert Singer for high speed. The model was the ultimate expression of the 911 factory race car before Porsche withdrew from motorsport. The model had an advanced water-cooled cylinder head having four valves per cylinder. Due to the advanced aerodynamic shape of the car, it could attain a speed of 366 km/h.
PORSCHE 911 S2.2 TARGA
The Porsche 911 is the world's famous sports car. The name 'Targa' was derived from the Targa Florio, the great Sicilian road race where Porsche scored its first racing success.
The sports car has a flat-six engine with a power output of 180 hp(132 kW) with a top speed of 230 km/h(143 mph). The rollover structure of the car not only provides high rigidity and safety but is also integrated as a stylish element of the car.
If you are a Porsche fan and want to buy a Porsche 911 for yourself then you can check this used Porsche Carrera 911 in the UAE.
WHAT IS THE MENU LIST?
The coffee beans used by DRVN are sourced from the best farms in the world and are all roasted on-site. They offer a variety of coffee, including quick espresso, Americano, cappuccino, lattes, mochas, freshly brewed coffee, smoothies and much more.
They also have breakfast platters, soups, appetizers and salads, healthy bowls, pizzas and desserts. The pizza served by DRVN is an inspiration from traditional Napolitana pizza and it's one of their famous dishes on the entire menu.
This summarises everything to know about DRVN Porsche. If you are a fan of Porsche and want to enjoy a cup of coffee in while surrounded by some iconic models from the make, then this is a must-visit place for you.
Credit: Dubizzle UAE